Besides the obvious…
The hard truth is: not everyone can get the job. So where do all the 2nd place candidates go?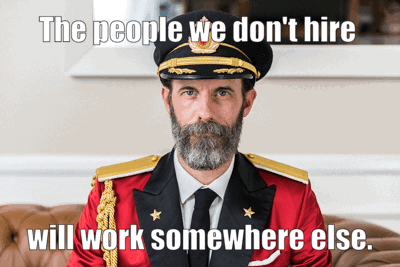 No I don't mean "some other company." Thanks, Captain Obvious.
The ideal world: Highly interested candidates join your 'talent network' and are ready to join next time something opens up.
The real world: They're totally moved on. And forgotten about you. Even though you added them to your email list that sends random positions and goes straight to spam.
Imagine a world where all the time spent interviewing candidates who didn't get the offer isn't wasted. The sheer productivity gain and cost reduction of avoiding double work every time you make a new hire. Kinda cool huh?
But it's rare. File it under "things hiring and talent leaders know when they're job seeking but completely forget about when they're hiring."
Think back to all the times you actually did end up hiring a runner-up down the line. Or times you yourself were happy to hear from a place who declined you. What went right?
????Credibility. Companies that do get a second look are memorable after the first look.
The work is interesting. The people are smart. And nice.
They're a Destination Firm to begin with.
????Positive candidate experience. You're not going to believe this people *can* think highly of your company even if you said no.
It matters how you closed the loop. Beyond not ghosting them (duh).
Did you explain how the decision was made? With actual reasons that you yourself would accept?
Did you set realistic expectations if/when something else could come up in the future?
Did you offer them useful feedback on their interview performance to help them in the future?
????Some sort of automation to remind to you stay in touch.
"Be human" sounds cool until you realize part of being human is forgetting sh*t.
You need tech. It just can't be all tech.
It doesn't need to be anything crazy though. Check in tasks and email lists can work great.
As long as it sets you up to treat them like an actual person.